Salmon Teriyaki on a Bed of Vegetables
with Herbeus Coriander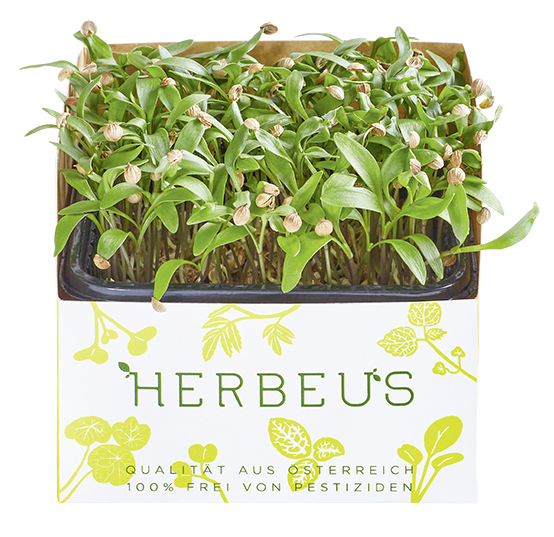 Ingredients
for 2 servings
2 salmon fillets
3 tbsp teriyaki sauce
2 tbsp sesame oil
1 tbsp sesame
4 tbsp water
1 zucchini
75 g sugar snap peas
75 g frozen peas
1 tbsp soy sauce
1 cup Herbeus coriander
This is how it's done:
Step 1:
Marinate the salmon fillets with teriyaki sauce, sesame oil and sesame. Wrap in kitchen foil and leave to rest in the fridge for 30 minutes.
Step 2:
Cut zucchini into slices and sauté in 1 tbsp sesame oil over medium heat together with sugar snap peas and frozen peas. After 1 to 2 minutes, deglaze with water and season with soy sauce. Let simmer for 2 minutes.
Step 3:
Fry the salmon on each side for 2 to 3 minutes and place it on the grid in the preheated oven (grill setting 160 °C) for 6 to 8 minutes. Turn every now and then.
Step 4:
Garnish with Herbeus coriander. Bon appétit!